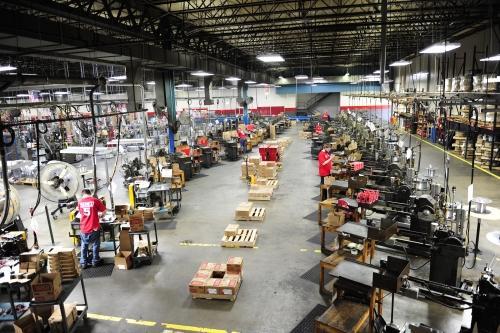 This Friday is Independence Day, July Fourth, a time in America where we celebrate the birth of the United States - and everything the nation has come to represent. For many, the term "Made in America" is still a deciding factor when making a product purchase, whether it's a truck, tool or even a fastener. One of the last large-scale examples of a fastener manufacturer that is made here in America, Senco Brands, located in Cincinnati, produces more than 80 percent of their fasteners - nails and staples - in the state of Ohio.
One of the largest fastener production plants in the U.S., the Senco factory spans a whopping 500,000 square feet - and includes fastener manufacturing, tool research and development (not production), a warehouse and office space.
The trip each American made fastener makes at the Senco plant is as follows. Starting off as a spool of metal wire, each collated fastener journeys through the plant, as it goes from unrecognizable wire to the nails and staples that help build America's infrastructure.
The wire enters a machine that cuts the thread into partially finished nails, including head, shank and point. From there, the nails go onto a conveyor that sorts and organizes them - so that they are all facing the same direction as required for collation. Each fastener then goes through a finishing process - prior to being prepared for collation. For wire coil nails, the fasteners are then welded to a wire and spun into coils - keep in mind this process varies depending on the type of collation for a fastener (adhesive for staples, paper-tape strip nails, etc). Once the collated nails are complete, they are packaged and stored for delivery to distributors, such as Nail Gun Depot.
~ The Nail Gun Depot Team