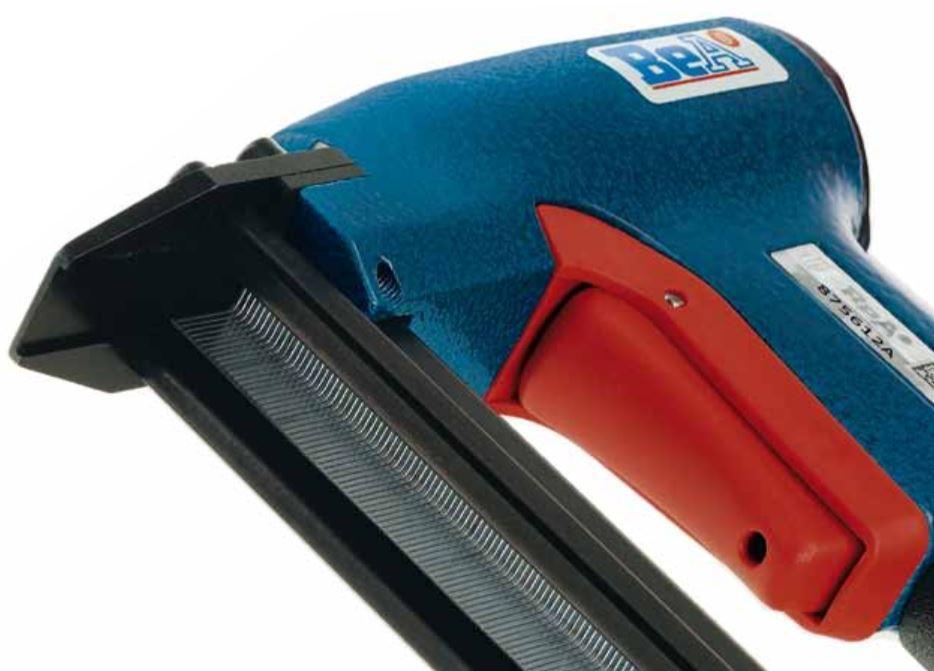 Everything you need to know about staple guns. Learn the difference between gauge and crown, what makes one type stapler different from another, and most importantly, which stapler is the best one for you.

What Type Of Staple Gun Do I Need?
What Crown Stapler Should I Choose?
Narrow Crown: Narrow crown staplers are generally used for finish and trim applications, such as molding, trim, cabinets, drawers, fascias and other fine-grained applications. The smaller crown allows the stapler to penetrate a surface without being overly noticeable.
Medium Crown: Medium crown staplers are preferred in subflooring, pallet building, vinyl siding, furniture assembly, sheathing and similar applications. A medium crown offers a wider range of clinch, but is not quite as rugged as a wide crown.
Wide Crown: Wide crown staplers and staples are intended for heavy-duty use - primarily in construction, for projects in truss building, housewrap, roofing, lathing and more. Look to use a wide crown stapler for many of the same applications as a medium crown, but where it doesn't matter if the staple affects the appearance of your project. Wide crown staples are bulkier, but offer greater holding capability.
What's The Difference In Wire (Gauge) Type?
Fine Wire: Fine wire staples are the thinnest variation of staple, generally ranging from 20 - 22 gauge in thickness. It's important to note, that the gauge and crown of staple are two different things. The gauge is the thickness of the staple, whereas the crown is the width.
Medium Wire: Medium wire staples are generally measured in the 18 - 19 gauge range of thickness. Medium wire will provide more holding power than a fine wire staple, but is not the best option for heavy-duty applications in construction.
Heavy Wire: Heavy wire staples are the thickest variation of staple, mostly found in 15 - 16 gauge thickness. Heavy wire will provide the greatest holding power of the three, but will also take up the most area when fastened. Heavy wire staples are good for applications that require stapling to a thick surface.
Other clamp fastening tools serve as extended family to the staple gun
, such as hog ring pliers, corrugated fastening tools and flaring staplers; however, these specialized tools are typically intended for industrial use or manufacturing.
Just as you should with any other power tool, be sure that safety is your top priority when using a staple gun
. Always be aware of your surroundings, how you handle the tool, and make sure you are equipped with the proper safety gear.
~The Nail Gun Depot Team