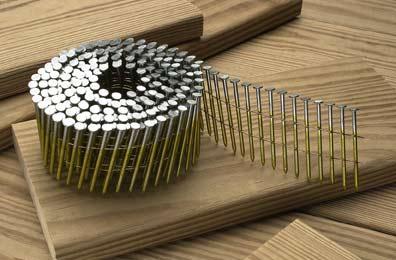 Why use galvanized nails? The quick answer, to slow down the process of rusting and corrosion, by protecting the nail with a zinc coating. Galvanized steel nails will eventually rust (use stainless steel nails to completely prevent rust), but the galvanization (zinc coat) will prolong the nail's lifespan - as compared to non-coated alternatives. Because the cost of stainless steel is often two or three times that of galvanized steel, many contractors elect for the galvanized product in regions where building code doesn't specify otherwise.
So, you've decided to use a galvanized nail, but now need to determine which type of galvanized coating to use.
There are two main types of galvanized nail that you'll find on Nail Gun Depot, either Hot-Dip Galvanized (HDG), or Electro-Galvanized (EG). Other types of galvanization can include tumbler hot galvanizing and mechanical zinc plating (also known as peen-plating). You may also see certain galvanized products listed as 1000 hours galvanized, which indicates those items are rated to withstand 1000 hours - or more - of salt spray testing.

Hot Dipped Galvanized nails are the highest quality of galvanization available, offering 1.7 mils minimum zinc coating thickness, evenly covering all nail surfaces from head to tip - and offering a 30-50+ year lifespan. The process for hot-dip galvanizing includes cleaning the steel body, submerging the nail into molten zinc, and spinning it to remove excess coating. Perfect for use indoor and outdoor, HDG nails provide a good balance of cost and quality. And, an added benefit, the coarse zinc particles offer added "cling" to whatever surface they come in contact with - providing additional holding strength.
For the highest quality galvanized nail, look to see if it is ACQ approved, which indicates the nail can be used with ACQ pressure treated lumber. For HDG nails, ensure the nail meets ASTM A153 specifications for hot dipped galvanizing.
For applications where lower quality galvanization is suitable, Electro-Galvanized nails are among the thinnest coating, at 0.36 mils maximum. Ideal for indoor applications, the EG coating has an average lifespan of 5-10+ years depending on the environment. Similar to HDG, Electro-Galvanized nails are also bathed in zinc, but with an electric current that charges the zinc acid and attaches it to the nail's body.
Despite the benefits to using a galvanized nail, there are certain types of wood, such as cedar or redwood, where galvanized nails (especially those with a lower quality galvanization) will quickly rust and streak the surface, due to a chemical reaction with the wood. We typically recommend using stainless steel nails if working with these types of wood, for a guaranteed high-quality finish.
When ordering, if you're looking specifically for Hot Dipped Galvanized nails, pay close attention to the product description. More often than not, if a nail is labelled as galvanized, but does not specifically indicate Hot-Dip Galvanized (HDG) anywhere, the nail is probably coated with a lesser quality galvanization, such as Electro-Galvanized (EG).
Most nails offered through Nail Gun Depot are listed specifically by the type of material, coating, or galvanization they are manufactured with. For additional questions regarding which type of nail or staple is best for your project, consult a product specialist here. You can also learn more by visiting the American Galvanizers Association.
Of course, always know the building codes and requirements for the area with which you are planning to work.
~ The Team At Nail Gun Depot