Everything You Need To Know About Roofing Nailers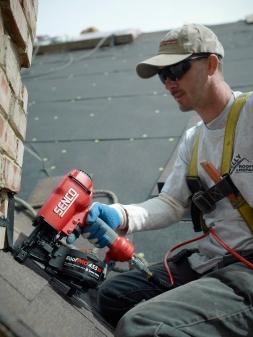 Warmer, dryer weather means one thing - roofing season is here. At Nail Gun Depot, we've decided to dedicate the entire month of May to roofers, roofing, and everything in between. Join us as we explore everything you need to know about
roofing nailers
and other roofing tools - when you enter the Nail Gun Network.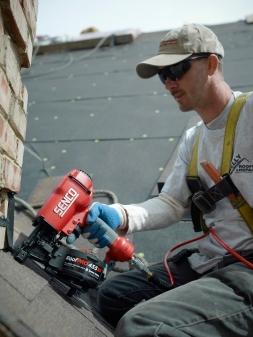 What makes a roofing nailer different from any other type of nail gun? The difference is in the detail. Roofing guns are built to drive nails that are appropriate for most types of asphalt and fiberglass shingles, waterproof tar paper and insulation board. Whether you are installing a new roof, or re-roofing, roofing nailers are built specifically for what they are named.
A key feature shared between roofing guns, they are designed to drive coil nails - coil roofing nails to be precise. By using coil nails, roofing nailers can go longer between refills - reducing the need to stop and climb off a rooftop to refill the nailer's magazine. A coil magazine design also helps improve the tool's ergonomics, making it less awkward to maintain hold of while crawling around on a roof.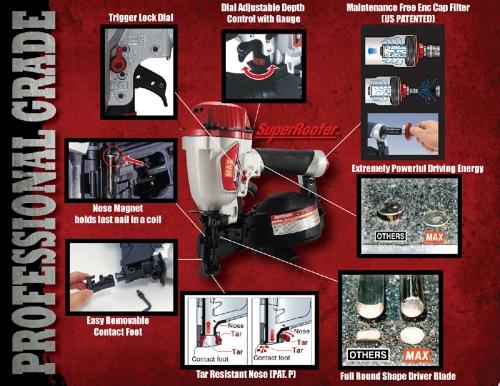 Don't be fooled, quality means everything for a roofing nailer. Most roofing contractors use their tools on a daily basis during peak roofing season, so it's essential that the tool you purchase is dependable and provides several years of worry-free service. When it comes to roofing nailers, trust the guys who know the business best. Senco offers two excellent roofing tools, the

445XP

and the 455XP (replaced by the 445XP) - paired with a five-year manufacturer's warranty for added peace of mind. The

Hitachi NV45AB2

is another popular model that has withstood the test of time. Last, but certainly not least, the MAX CN445R2 (replaced by

MAX CN445R3

) offers roofing contractors the affordability of a competitive price point, paired with the durability of a construction-grade tool. Any of the roofing nailers we've listed above should provide several years of excellent service.
When it comes to installing roof felt, cap coil nailers, also known as plastic cap nailers, are pivotal to any roofing operation. Cap nailers drive a coil nail in tandem with plastic cap, providing additional holding strength and protection versus a standard nail. Stinger also offers a series of cap staplers that are designed to do the same - only with staples instead of nails.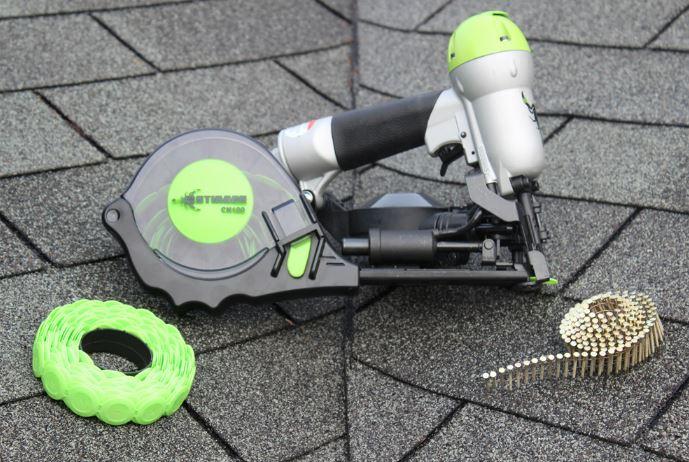 Next to roofing nailers, hammer tackers (hammer staplers) are a necessity for any installation where roofing paper will need to be laid before shingles are nailed into place. These slap staplers work the same way as a standard hammer, only instead of pounding a nail into place, the impact of a hammer tacker triggers the firing of a staple into the surface with which it makes contact.
~ The Nail Gun Depot Team
7 Comment(s)
do 15 degree roofing nails interchange with 16?
What roofing nailer uses the longest nail?
Nail Gun Depot
Jun 03, 2019 05:20
Hi Steve, the longest roofing nail that well sell is a <a href="https://www.nailgundepot.com/jaaco-3-jar10deg-smooth-15-degree-eg-coil-roofing-nail" rel="nofollow">3" roofing nail</a>. Of the roofing nail guns we sell, the <a href="https://www.nailgundepot.com/jaaco-nailpro-npcn-8350-coil-roofing-nailer" rel="nofollow">Jaaco NailPro NPCN-8350 Coil Roofing Nailer </a>drives the longest at 3-1/2".
Was wondering if I need to use a specific brand of nail with the Max nailer or can I use any brand of nails? Thanks
Nail Gun Depot
Mar 29, 2019 04:45
HI Brian,

Thanks for your question. As long as you're using the right diameter and length that the manufacturer lists for the tool, you should be good with another brand of nails.
Hi
Just wondering your thoughts on MAXIMUM roofing coil gun?
Thanks
Nail Gun Depot
Apr 10, 2018 11:16
We are not familiar with that brand, but we do stock a MAX USA brand coil roofing nailer. It's among our most popular roofing guns, for its build-quality and value.