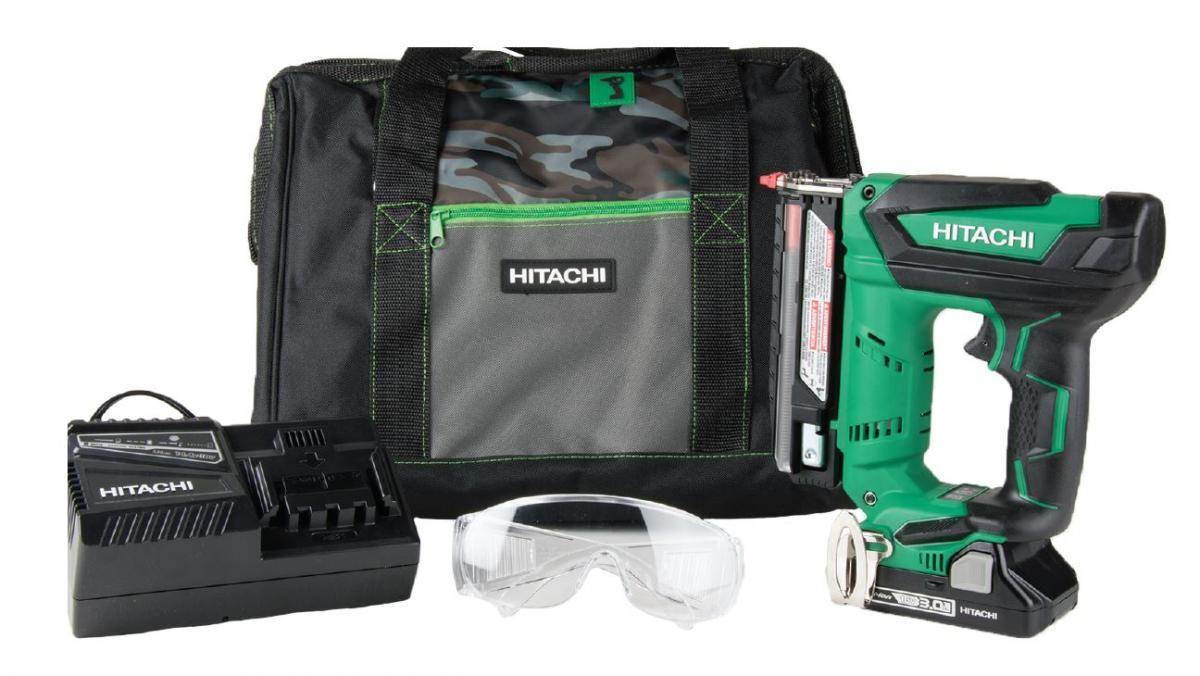 Hitachi, a brand that built its reputation on pneumatic tools, has once again struck innovation, this time with a different technology - cordless. Leading the revolution in job site functionality and ease-of-use, the new Hitachi NP18DSAL cordless pin nailer is set to take carpentry to the next level.
Cutting the cord, the Hitachi NP18DSAL 23 gauge cordless pin nailer is 100% battery-powered. With the lightweight BSL1830C 3.0 Ah Li-Ion battery providing plenty of power, this sequential-firing pin nailer can drive 2 to 3 pins per second – shooting approximately 3,000 pins total per battery charge.
Brand new to market, the Hitachi NP18DSAL 18V 23 gauge cordless pin nailer is Hitachi's first tool to feature the brand's newly patented "No-Push" safety nose tip. Designed to reduce work related fatigue, simply place the tool nose against your work surface and pull the trigger. An added bonus, this nose design also helps to prevent surface marring.
Easy to use, Hitachi added a built-in counterweight to virtually eliminate tool recoil. Other user-friendly features on this cordless pinner include a slim nose (for serious accuracy between tight trim grooves), an ergonomic comfort grip handle, and tool body bumpers. Users will also benefit from a list of standard features including dry-fire lockout, tool-less depth of drive adjustment, on-tool battery charge indicator, LED light with tool on/off switch, and a belt hook.
For those already committed to Hitachi cordless, who do not need the battery or charger, a bare tool-only model is also available. The NP18DSALP4 pin nailer offers the same great features as the full kit model, but deletes the battery, charger and carrying bag from bundle.
For those that want the full kit, the Hitachi NP18DSAL [18V 23 gauge cordless pin nailer kit] includes the tool, Li-Ion battery [339782], fast charging station [UC18YKSL], contractor carrying bag, safety glasses, 3mm. hex bar wrench, and a no-mar nose cap set.
For complete peace-of-mind, Hitachi offers a limited-lifetime warranty on the tool itself (at launch), while the battery receives a 2-year warranty, and the charger includes a 1-year warranty from the manufacturer.
Are you ready to go all-in on Hitachi cordless?
~ The Nail Gun Depot Team