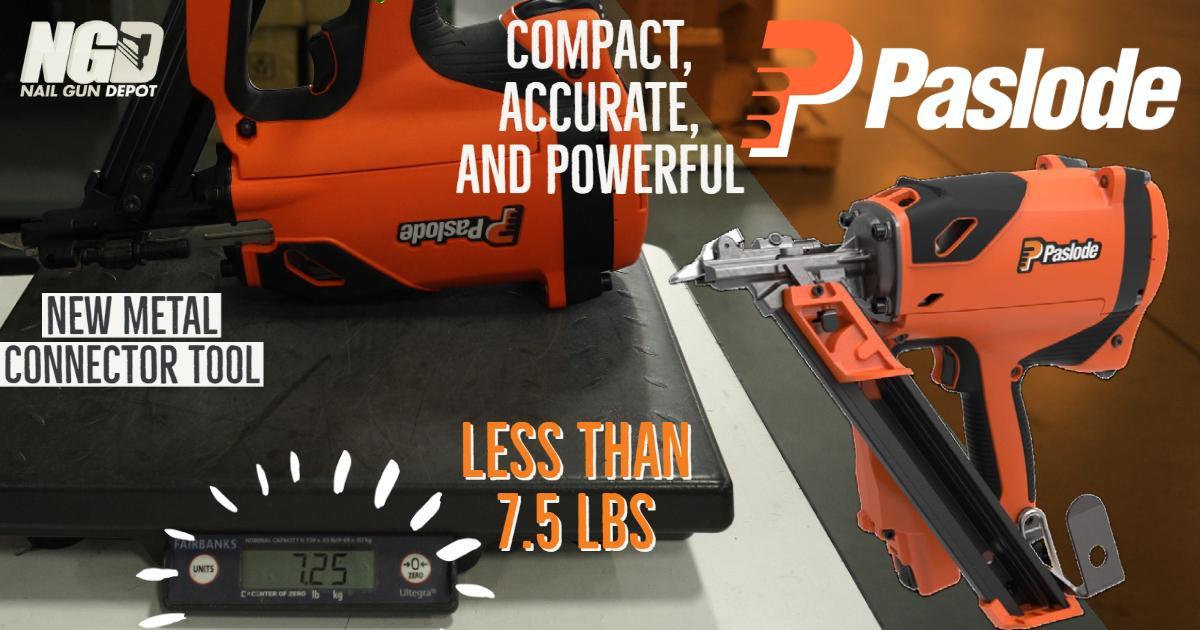 Fellow builders, it's once again time to cut the cord - this time without sacrificing ergonomics for convenience. If you're tired of lugging around a hefty (cordless) TICO nailer that feels like an anchor on your arm, welcome Paslode's CF150-PP Cordless Positive Placement Nailer.
Paslode has been a leader in the field for 35 years, and at long last, they've brought the ergonomics of their cordless framing nailer to the larger, more cumbersome Positive Placement segment, with the CF150-PP. They were among the first to make us dream of going cordless in power nailing, and this latest innovation is a testament to their pursuit.
The CF150-PP isn't just another nailer. It's a cordless beast designed specifically for metal connector applications. The compact design lets you maneuver it into tight spots with ease, and the Positive Placement probe, or nose, is an absolute blessing for speed and accuracy. Quite possibly the lightest-weight iteration cordless metal connector nailer to date, we've got to say, this is precision and convenience rolled into one powerhouse tool.
Here's what truly makes this tool unique, the weight. It's 7.25 lbs with a stick of nails, battery, and fuel cell. Compare that to the Metabo HPT NR3665DA, which weighs in at a hefty 11.35 lbs with just the battery, and you can see the difference - it's a whopping 36% lighter. You'll feel the difference at the end of the day, trust us.
Paslode's CF150-PP has been built with us, the professionals, in mind. They've taken our needs and insights and turned them into a high-performance tool. The comfort grip, the compact design, the cordless technology - it's clear they've been listening.
Now, let's talk about what you get for your money. For less than $500, you're getting the CF150-PP with a 2 Year Service Promise. Very competitive in price to other player(s). Here's the catch, the CF150-PP is designed to work exclusively with Paslode Posi Placement Fuel, which can only be found in their Fuel/Nail Packs. While this ensures you get top-notch performance with every drive, Paslode puts the lock on using anyone else's nails. As of launch, in order to buy the fuel required to power this tool, you can only purchase packaged with Paslode genuine nails. While we understand the logic, users may feel the limitations set. With that said, this compact system brings a lot of value to the table in ease of extended use, reliability, and footprint.
The dimensions are compact, and the magazine nail capacity is one strip, or 29 nails. The fuel cell will give you around 800 nails, and the battery life a whopping 9,000 shots per full charge. Not to mention, the quick charge feature is incredibly convenient - just 2 minutes for 200 shots.
Our parting thoughts, the Paslode CF150-PP Cordless Joist Hanger Nailer is more than just a tool - it's a testament to Paslode's commitment to innovation, convenience, and performance. This is a tool built with the professional contractor in mind, taking into account our need for ease of use, accuracy, and efficiency. Try it out, feel the difference for yourself.
You can find our video test firing its first shots and a brief demonstration here.