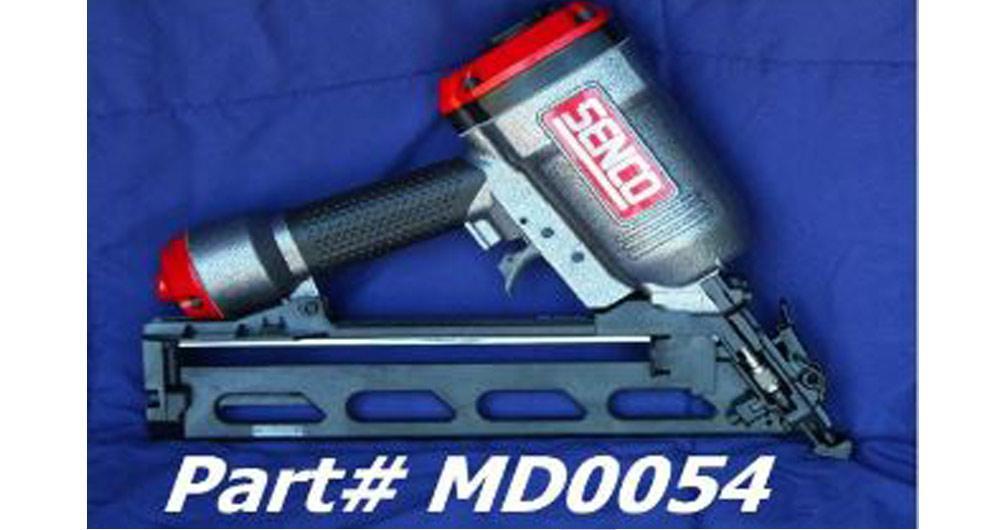 We talk a lot about the mainstream fastening tools that most of our customers can relate to their job site, but what about the specialty tools that go beyond a traditional finish nailer or flooring stapler? That's right, we're talking about the big-guns. These tools are not available at your big box stores. They are custom built - designed with the capability to function above and beyond the norm. Sometimes, it takes a little bit more to get the job done right. Now is your chance to discover some of these tools that can make your job easier - tools that you can't just find anywhere.
Let's start with one of our favorite specialty fabricators, Motion Devices, a company that takes Senco brand tools and gives them a unique twist in function. A new addition to the Nail Gun Depot site, the Senco MD0054 is a prime example of tool fabrication that provides added value to the user. To the ordinary eye, this tool would appear to be a Senco FP42, however, upon further examination, not only can this tool be used as a finish nailer, but can also act as a floor nailer via a removable attachment. In combining the function of multiple tools, the MD0054 will ultimately save a floor installer or general contractor on the amount of tools they need.
Senco MD0054
Another great example, the Senco MD4913 tube closing clinch stapler utilizes t
he

popular Senco SNS200XP, converting it into a
medium crown tube closing clinch stapler.

The MD4913 is designed to secure plastic and metal end caps on mailing and shipping tubes
. Likewise, the MW4941 wide crown clinch stapler is ideal for softwood and corrugated cardboard applications. Enhancements to this tool include

a new remote firing valve for fast and powerful operation, a high-strength composite magazine, and an extremely durable exhaust cap to prevent damage.



Senco MW4941
A powerful option in the corrugated fastening segment, the BeA W-Type 

corrugated fastener tool

 

virtually eliminates the need for gluing, milling, clamping, screwing and other time-consuming operations. Designed with durability in mind, a corrugated fastener is twice as strong as a regular fastener - meaning this tool is a must have item for anyone that regularly works with corrugated products, such as cardboard. This BeA tool also features a compact design which gives it the agility to seal butt and corner joints with ease.
BeA 12000133
Last, but certainly not least, we couldn't leave the topic of specialty tools without mentioning carton closing staplers.

An absolute must have tool for any business that deals in production and distribution,

top closing staplers maximize productivity and provide a durable seal required for shipping.
Looking for an outstanding example? The Josef Kihlberg A560PN

heavy-duty carton stapler

is designed to tackle high and low volume closing of corrugated cardboard including box folding, complete overlap and more.
Josef Kihlberg A560PN
Whether you prefer a fabricated fastening tool or a specialty tool designed to perform a specific job,
we've got you covered. Nail Gun Depot offers one of the largest selections of specialty fastening tools - tools
that you can't find everywhere - and the technical support to maximize their potential.
~ The Nail Gun Depot Team