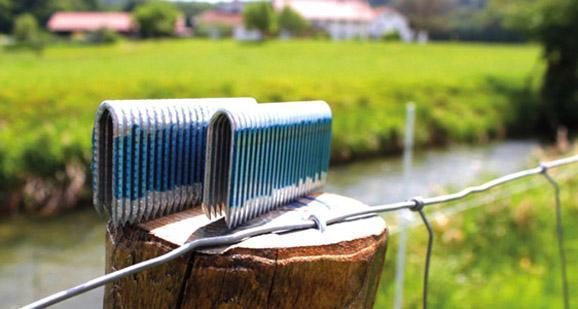 For several years, the fence stapling market has been dominated by few select brands. Recently, this niche industry received some new competition, as Freeman Tools introduced their PFS9 fence stapler. The Freeman fence stapler offers many of the same features as its Paslode and Fasco counterparts - but at a fraction of the cost. Today, we're going to put the Freeman PFS9 head-to-head with its closest rival, the Fasco F46 40-315 pneumatic fence stapler.
Arguably one of the most recognizable tools in fence stapling, the Fasco F46 has earned a spot at the top of its class. Loaded with options that include a well-balanced and lightweight design, powerful motor for hardwood applications, form fitting nose designed for wire fence installation, on board adjustable depth of drive, and a comfortable non-slip rubber hand grip - this Fasco bundles a professional setup with tried and tested quality.
A new kid on the block, Freeman Tools' PFS9 fencing stapler is quickly gaining notoriety as key competition - earning its own spot toward the top. Very similar to the Fasco F46 pneumatic fence stapler, the Freeman Tools PFS9 is designed specifically for applications in livestock fencing, field fencing, horse fencing and heavy mesh fencing - among other similar uses with wire fencing. This fence stapler features a magnesium housing, one-piece drive blade, adjustable depth of drive, 360 adjustable exhaust, air filter, quick-jam release, T-handle (for added control), top load magazine, wire alignment notch, belt hook, and comes with plastic carrying case.
So, what are the major differences between a Freeman and Fasco fence stapler?
PRICE: Considerably the strongest factor in dictating which of the two tools you purchase, the Freeman PFS9 is less than half the cost of a Fasco F46 fence stapler. Currently on Nail Gun Depot for $349, compare Freeman to the $769 price tag for its Fasco counterpart.
FASTENER: Each of these tools require its own unique fastener, so know that when you commit to either of these brands, you'll also be committing to their fastener. Both types of fastener can be used for the same application, and both brands of fastener run about the same in price - so it ultimately comes down to your preference of tool. The Freeman PFS9 runs 9

gauge collated fence staples

from 1-3/4" to 2" in length, whereas the Fasco F46 40-315 drives 10.5 gauge fencing staples from 1" to 1-9/16" in length.
WARRANTY: Don't be fooled, the low price on Freeman's fence stapler doesn't necessarily translate to a lower build quality. To make that known, the PFS9 is backed by a seven-year limited warranty. In comparison, Fasco's F46 fence stapler comes with a standard one-year manufacturer's warranty.
THE VERDICT: The fact is, both staple guns have their merits. If you're looking for a tool that comes with several years of industry use, recognition and praise, we'd recommend the Fasco F46 fence stapler. For those shopping on budget, or who are only planning to use their fence stapler periodically, we'd suggest giving the Freeman PFS9 a shot. With a seven-year warranty and significantly lower price, it's hard not to give Freeman a second look.
Comment below to let us know which one you'd choose!
~The Nail Gun Depot Team