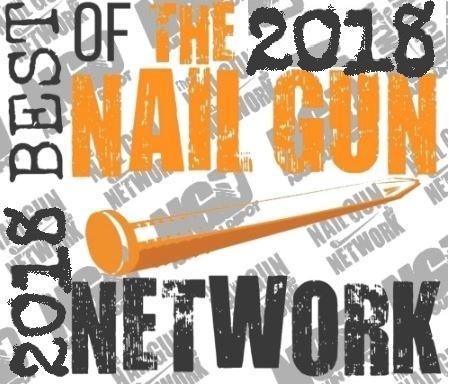 As the year begins to wind down, it's time to reflect, and review the stuff our readers found most interesting. Below are our Top 10, most-read articles of the year. If you missed any, just click the links to get caught up! And thank you for being a loyal reader.
There's no denying our article on these the two large-bodied nail guns drew a lot of interest. Siding and framing nailers may look similar, but they do serve different purposes—and take different fastener lengths. In February, we explained why the two are occasionally interchangeable, and why it's sometimes better to invest in the right tool for the job.
Next on our list was the announcement that Hitachi's huge re-branding, announced in March. After being acquired by an investment firm, they sought to differentiate themselves, changing their name to Metabo HPT, as well as ushering in a new logo. While the name and face have changed (and part numbers, FYI), be assured their product quality will remain the same.
Many fans of Hitachi had feelings about the change. If you did, share them in the comments!
In March, we looked at how some of the new Systainer air compressor systems stacked up, and you took notice. Both Cadex and Rolair came out with their own competing takes on the sleek setups. Making air compressors more rugged and mobile sounds like an all-around good idea. In this article, we looked at the cost and convenience of upgrading and whether was a "square deal."
And you thought the trend of applying rustic wood siding to walls (and ceilings!) had already sailed. Turns out the popular home design treatment is still cruising along. After all, the look has a timeless appeal, and with the right tools, installing shiplap makes for a very doable home improvement project. In this August blog article, we offered up some tips for completing your own ship-shape shiplap project.
For subflooring applications, we weighed the pros vs. cons of using one fastener over another. We compared aspects of speed, cost, durability and holding power. The battle of nails vs. screws continues, though a relatively new nail-screw hybrid may throw an interesting wrench into the debate.
Early in the year, we covered a seemingly simple topic—how to load your staple gun. For wood and upholstery professionals, the pneumatic staple gun is the tool of choice, but staples are some of the most confounding fasteners. The where and why of loading isn't always so obvious, especially to the first-time staple gun user. In this post, we supplied simple step-by-steps for getting your stapler ready for work.
Before shaking up the industry with their massive re-branding, Hitachi introduced an exciting new tool for the year—the 100% battery-powered NP18DSAL 23 gauge cordless pin nailer. The ability to drive 3,000 pins per charge at a rate of 2-3 pins per second was news. We were intrigued by the tool's features, including its no-push sequential firing. Apparently, so were our readers. Did you invest in the Hitachi (we mean Metabo HPT) nailer? If so, let us know in the comments.
Do you know how your air compressor works? Or what the PSI of your tool means? We're not here to judge. We see the acronyms all the time, but don't always have time to investigate. In our July article on common air compressor and air tool specs, we did so. Because the more you know…
Fiber cement siding is not a new application. In fact, it's been around for more than 100 years. But a durable new fastener, made of stainless steel, may significantly upgrade the installation process. And the bonus part—you don't need to fasten the nails to the studs, relieving siding installers from several time-consuming parts of the process.
Our final top-10 post of 2018 happens to have very good timing. Last winter, we suggested some must-have tools and accessories for working in cold weather. Let's face it—just because we feel like going into hibernation mode, doesn't mean work comes to a grinding halt. With the right tool oil, fuel cell and hose, you can maintain the same level of efficiency. In this article, we offered up some tips on how to keep your tools up to speed, even when the Fahrenheit takes a dive.
Planning any big (or even small) projects this winter? Let us know!
~ The Nail Gun Depot Team