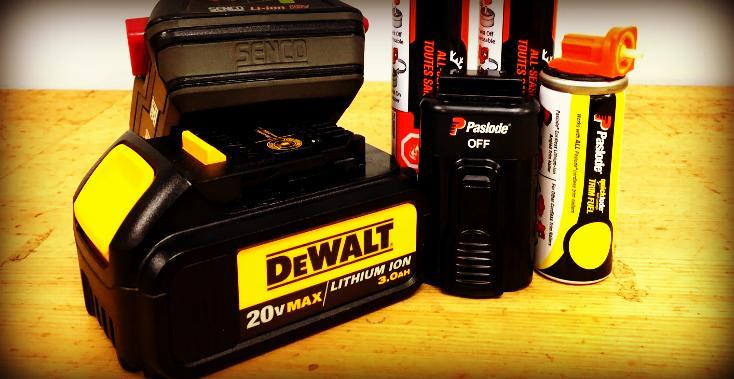 There's no question that cordless nailers have come a long way from the late 1980's, when Paslode introduced the first cordless framing gun. Despite technology advancements in almost every facet of the industry, there's still one dividing line in cordless nailing—compressed gas fuel combined with a battery—or battery-only power. Two very similar concepts with very different means for operation. Understand the differences before you buy.

Gas-Powered Cordless Nail Guns
Also known as fuel-powered or gas-cartridge nail guns, gas-powered nailers rely on combustion. These types of nailers were designed to mimic pneumatic nail guns, by using compressed gas fuel in combination with a battery.
To shoot a fastener, you press the tool nose against the work surface, fuel goes into the combustion chamber, and mixes with air from the tool's fan. When you pull the trigger on this type of nail gun, a spark plug near the battery lights the gas-air mixture. The combination of fuel and air forces the piston and the driver blade downward, which fires the fasteners.
The first tool of this kind was invented by Paslode. They introduced the Impulse model in the late 1980s, and the technology behind it is still in use today. You can see this kind of system in several different nailers, including the Paslode CF325XP cordless framing nailer and the Grex GC1850 brad nailer, for example.

As you might imagine, it requires more energy to drive a framing nail than it takes to sink a brad. This translates to the size of battery and fuel cell your tool may require. For instance, the Grex cordless brad nailer uses two AAA batteries to ignite its small, cylindrical finish fuel cell.
Battery-Powered Cordless Nail Guns
In recent years, there's been a push to eliminate the gas fuel cell, and use a more powerful battery as the nailer's sole source for power. The battery powers a spinning flywheel, which drives the motor. As long as the trigger is pressed, the flywheel stays in motion, which allows for rapid or bump firing.  With the Bostitch BCN680D1 18-gauge brad nailer, for example, a 20V Li-Ion battery alone powers the tool.
New innovations strive to make battery-powered tools increasingly lighter and more agile. Some battery-powered nailers even utilize similar design elements comparable to an air-powered nailer, to power the tool. The Senco Fusion finish nailer, for example, uses a permanently sealed air cylinder, which stores energy as compressed air. This type of nail gun works similarly to a pneumatic, but without the need for fuel, instead using the battery to do the heavy lifting.
Bostitch claims that by switching to an all-battery-powered model, pneumatic tool users save up to 20 minutes a day in setup. They also state that gas-powered tool users can save up to $15 per week in fuel cells and cleaning/lubricating costs. That's something to take into consideration when high-volume production is a requirement.

Associated Costs of Cordless Nailers
Let's look at an important aspect of comparison—cost. A lithium-ion battery will cost around $100, and a battery charger will run you about $50. If the tool comes without a battery, you'll need to get one. Having at least one backup battery is highly recommended too.
One thing many people fail to consider when purchasing a tool is the continued cost of ownership. Batteries have a limited lifespan, so eventually those will need replacing. A battery for a cordless tool will last approximately 3 years or 1,000 charge cycles. 
For gas-powered nailers, expect to pay about $13 to $15 for a single fuel cell. While fuel cell life can differ depending upon size and application of the tool, most deliver 1,000 to 1,300 shots. Metabo HPT estimates that, for skid of 200,000 nails, you'll need about 200 fuel cells. That comes out to approximately $1,796.
Convenience of Cordless Nailers
The obvious benefit of owning cordless nailers is that you don't have to worry about getting a compressor or being tied to an outlet. That also eliminates a safety hazard in potentially tripping over air hoses or cords. There's also no need to worry about choosing the fittings or hoses (or even tool oil) to work with your tool, so you can leave those out of the equation.
A battery-only powered cordless nailer means a single power source, which is one less thing to worry about. The downside of course is that the tool's sole reliance on it will drain the battery quicker, unlike with a gas-and-battery-powered nailer. So, you should plan to keep at least one spare battery on hand at all times. Also, a large battery means added tool weight. If you're working at challenging angles, such as overhead, you'll notice it.
One other thing to consider, a gas-powered nailer can typically run longer than a 100% battery-powered model, since it has two sources of energy working together. For a quick overview, here are some of the pros and cons between both types of cordless nailer.
Gas-Powered Nailer Pros/Cons:
Pro: Gas-powered cordless nailers tend to run longer between re-charging than their all-battery-powered counterparts.
Con: You need two accessories (battery and fuel cell) to power the tool. Some people also find the odor of gas tools annoying, though some brands like Grex now offer odorless fuel.
Battery-Powered Nailer Pros/Cons:
Pro: Battery-only nailers eliminate the costs associated with gas fuel cells. Simply charge up and start working. Most battery-only nailers also eliminate the aggravating "ramp-up" time required by gas-powered tools, which equates to time saved.

Cons: Battery-only nailers typically have a larger battery pack, since the tool is running exclusively on the energy generated by the battery. This allows them to go longer between charging, but adds weight to the tool. Some systems, such as Metabo HPT's MultiVolt, allow the user to switch between an electric power cord and battery.

Which type of cordless nailer do you prefer? Let us know in the comments. Questions? Contact Customer Service.
---
Shop Cordless Nail Guns at Nail Gun Depot