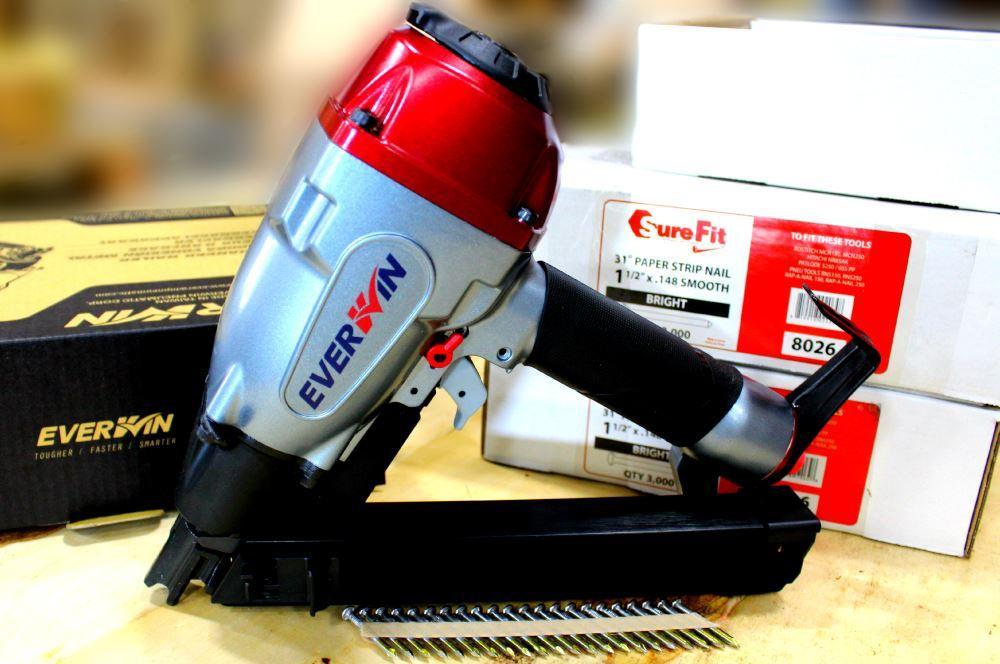 We're excited to announce the arrival of the Everwin MCN40 Joist Hanger Nailer, launched exclusively through Nail Gun Depot! Conceived with innovation and convenience in mind, this metal connector nailer is noticeably compact. But don't let its small size fool you.
Imagine a pneumatic joist nailer that weighs just 4.4 lbs and can tackle metal framing hardware with respectable power. The manufacturer is so confident in this tool's capability, Everwin calls the MCN40, a "construction nailer with an industrial tool's core."
In development for some time, the MCN40 joist hanger gun was put through its preliminary paces. "The development took us four years, as we went through rounds of destructive testing and structural reinforcement," states Charlie Lin, Global Sales Director for Everwin Pneumatic Corp.
So, what does the MCN40 have that its competitors don't? It offers a tool with industrial backbone, at a very accessible price point. We've coined this "expert engineering with efficient execution."
Everwin MCN40 Nailer Features
At just 10.8" tall, the MCN40's compact stature lets it easily drive TICO nails in challenging spaces. This joist hanger nail gun deftly navigates 12" O.C. joists thanks to an efficient engine design. And because of its lightness, the tool has less heft; a relief for arms, shoulders and back. These qualities make it great for overhead connecting as well.
Beyond its stealth, another notable feature is the patented tool nose. This exposes the nail's tip, acting as a guide for driving nails into connector holes. A patent-pending Anti-Kickback pawl prevents nails from backing into the nose, offering greater stability. Overall, you can expect faster, more precise nailing.
The tool's ergonomic design includes a cushioned grip, and aluminum magazine for better balance and maneuverability. Other features include a 360-degree rotating exhaust to keep debris out of the face, a rotating metal belt hook, and dry-fire lockout. The nailer has sequential firing and a safety trigger lock to prevent accidental firing.
MCN40 Joist Hanger Nailer Fast Facts:
Applications: Metal framing hardware, hurricane and rafter ties, post bases, foundation caps
Collation: 31 to 34-degree paper or plastic collated
Fastener Range: 1-1/2" metal connector nails from .131 to .148 in diameter
Magazine Capacity: 33 nails
Firing Mode: Sequential
Operating Pressure: 70-100 PSI
Tool Height: 10.3"
Tool Weight: 4.4 lbs.
Having a great tool is only half the battle, if you don't have a well-constructed fastener to use with it. We've found the Everwin MCN40 pairs excellently with SureFit 8026 and 8026HDG metal hardware nails.
SureFit 8026 Metal Hardware Nail Fast Facts:
Applications: Metal framing hardware, hurricane and rafter ties, post bases, foundation caps
Collation: 31-degree paper tape collated
Box Count: 3,000

Length: 1-1/2"
Diameter: .148"
Options Available: Bright and Hot-Dip Galvanized
Also Known As: TICO nails, Joist Hanger nails, Metal Connector nails, Positive Placement nails
The joist hanger tool is now in stock at NailGunDepot.com with an MSRP of $249. You can purchase the Everwin MCN40 here, or contact Customer Service to order.
---
Shop Nail Gun Depot: