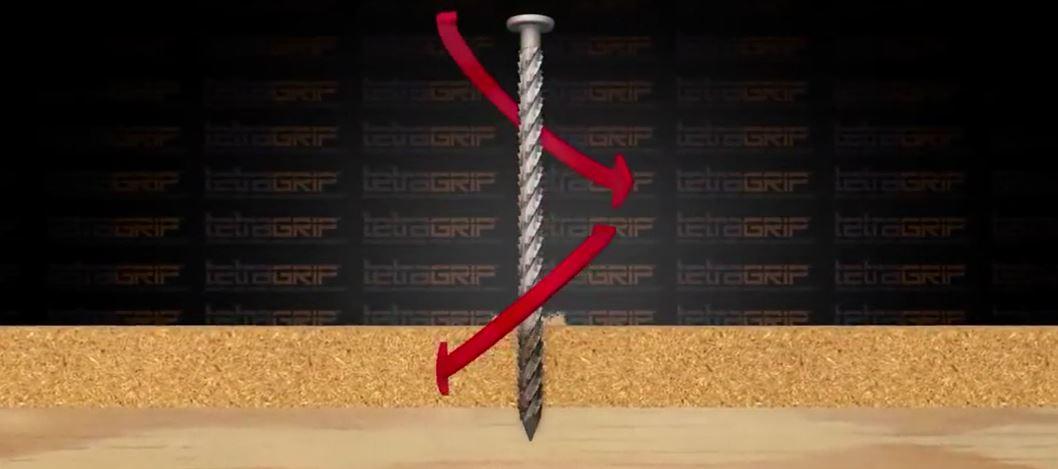 One of the most time consuming, irritating, and costly fixes for home construction contractors, squeaky subfloors. The warranty calls are inevitable. By the time you make necessary repairs, costs can run thousands of dollars.
Introducing the TetraGRIP Subfloor System
Paslode tackles the problem of nail-related squeaks with the TetraGRIP Subfloor Fastening System, which claims to eliminate the need for adhesive (and other fasteners) altogether. The system features the Paslode PF237C Subfloor Fastening Nailer, which holds 120 specially designed plastic sheet coil nails. The 8-1/4 lb. nail gun operates on 100 to 120 PSI and has a dual-mode trigger, so you can choose between bump and sequential firing.
The TetraGRIP system is not a new concept, but rather perfects what many others have attempted to do.

The TetraGRIP Subfloor Fastener—One Dynamic Nail
At this point, you may wonder what makes the system any different from using a regular screw or nail/screw hybrid?
The key is its unique nail shank with an integrated barbed-thread design. Paslode calls this their patented helix-shaped design (called a "barbed tetra-helical shank"), which is where the name of the product originates. The thread on TetraGRIP subfloor fasteners runs almost the entire length of the fastener, up to the nail head. It creates a kind of "locking" function as with a screw.
When driven into wood, the nail creates a bond with the wood fibers, yet without destroying the wood. Paslode describes it as "rotation without destruction." Ring shank nails may crush the wood fiber when driven; not so with this nail. The TetraGRIP fasteners feature a "TG" insignia, making them easily recognizable.
Learn more about these unique nails in this video.
TetraGRIP Subfloor Nails Save Nails, Time & Money
Performing like a framing nailer, the PF237C drives fasteners up to 3X faster than using screws.  With its impressive holding power, it also eliminates the time needed to apply adhesive -- plus the time and frustration involved when going back to fix squeaks. Eliminate all that and you've really made subfloor installation more of a one-step than a three-step process, saving money, time and manpower.
And as for those squeaks? The system is ICC-ES (International Code Council Evaluation Service) recognized. It was tested by the National Association of Home Builders, where it received the very first "No Nail Squeak Certification." So whether you live in a brand-new home or an old one, nail-related floor squeaks may truly become history.
The Paslode PF237C Subfloor Fastening Nailer only works with the TetraGRIP Subfloor Fasteners. The nailer uses a 3/8" air hose, with a 1/4" plug end for air compressor attachment.
How do you order TetraGRIP? As of 8/2019, TetraGRIP is now available for sale online at Nail Gun Depot. 
---
Shop Nail Gun Depot:
TetraGRIP PF237C Subfloor Fastening Nailer, 2-3/8"