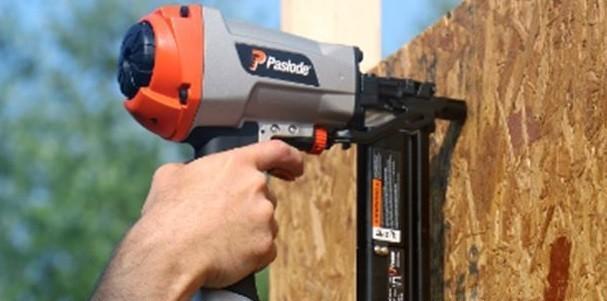 Continuously striving for improvement, Paslode is known for their framing tools. The Illinois-based company was founded in 1935, and they've been elemental in air tool innovation. The newest additions to Paslode's family of air-powered construction staplers, are the standard sized SCS200 1/2" Crown Pneumatic Stapler (arriving later this year) and the wider WCS200 15/16" Crown Pneumatic Stapler.

Ready, Steady Fire
If your sheathing tool of preference is a pneumatic stapler, then you've dealt with standing staples. Ideally, with a staple gun, you wouldn't need the added step of hammering in staples that didn't drive flush. One of the most exciting things about these new Paslode staplers is the promise that they drive "flush in all materials."
A rugged engine allows the staplers to shoot powerfully enough to penetrate the substrate. Add to that a U-shaped driver blade tip that prevents slippage when firing, ensuring a steady fastener drive. Another notable feature is the small WCE (work contact element) that allows you to shoot more accurately.
For even greater precision (and less hand strain), the staplers have a two-finger trigger that provides greater control in driving fasteners. So you can give your hammering wrist and trigger finger a rest.

What Else is New
Missing on the previous versions was a tool-free depth-of-drive adjust. Changing a tool's drive depth with an Allen wrench when you're 30 feet in the air isn't exactly ideal. No need to worry about that with these. These new 16-gauge framing staplers have tool-free depth-of-drive adjustment. Not to mention easy-access, tool-free jam clearance, should you find your staples in a bind.
Another new feature is the adjustable rafter hook, made of steel. An all-steel magazine, by the way, makes these 16-gauge air staplers more durable than the plastic-magazine in their predecessors. Also noteworthy on the new Paslode staplers—their speed. Both the SCS200 and the WCS200 can fire up to 10 staples per second.

Why Buy the Construction Staplers?
Both of the new 16-gauge pneumatic staplers from Paslode are adaptive to a wide array of applications—from sheathing and subflooring, to crate and pallet assembly. That's because the new 16-gauge staplers drive an impressive range of fasteners—from 3/4" to 2" staple lengths. The 1/2" crown stapler takes GS-16 Series staples, while the 15/16" crown-stapler will use GSW-16 Series staples.
Pro Tip: To prevent staple jams, we recommend sticking with the staple series listed by the manufacturer. Learn more on staple buying in our post, How to Find the Correct Staples for a Staple Gun. 
Both staplers have top-loading magazines that help prevent fastener waste, and both are lightweight at just under 6 lbs. The magazine capacity is 150 staples for both. Paslode designed each tool to stand up to the most demanding job site, so these construction staplers should remain nimble, "whether used in a high-speed production plant or sheathing walls in cold weather." Paslode guarantees the staplers with a 1-Year Full/5-Year Limited Warranty. 
When Are They Available?
The Paslode WCS200 15/16" crown stapler was just released this month and is available at Nail Gun Depot. It replaces the Paslode S200-W16 (501265) construction stapler. On the other hand, the SCS200 1/2" crown stapler is set to be released in December (a gift for your favorite tool-lover), and will replace the S200-S16 (501230) 1/2" crown stapler.

---
Shop Nail Gun Depot: