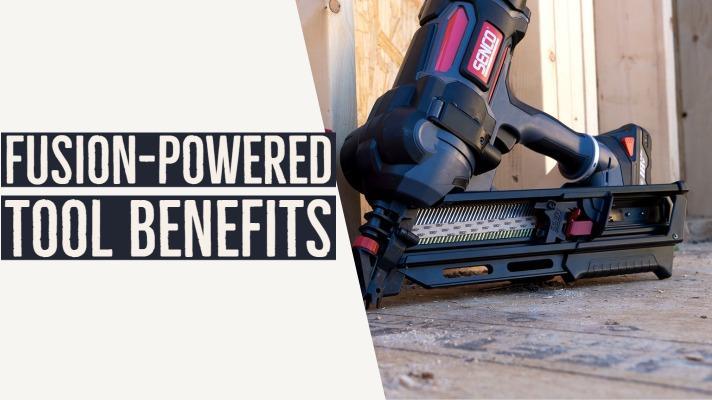 SENCO is back with an enhanced line of FUSION™ technology, air-powered nailers. After taking some time and an even closer look at what building professionals need, SENCO has designed their next-generation cordless pneumatic tool line. These upgraded tools include a number of exciting new features, specifically demanded by professional contractors.
Where Senco has been/History of SENCO's air technology
It's been just over a decade since SENCO invented the "cordless pneumatic" category with the launch of their air-powered, cordless finish and trim nailers. This included 4 product models: F-15 (15 Gauge Finish Nailer), F-16S (16 Gauge Straight Finish Nailer), F16A (16 Gauge Angled Finish Nailer), and the F18 (18 Gauge Brad Nailer).
Powered by their revolutionary air technology, these tools combined the speed, feel, and power of traditional pneumatic tools with the convenience of being cordless. The innovation and efficiency provided with this technology still have quite a pull on the industry; so much so, that SENCO has released their next generation of cordless framing and finish and trim nailers, powered by their trademarked FUSION™ technology.
Fusion-Powered Tool Benefits
In case you have no experience using a fusion-powered nailing tool, or if you need a refresher, let's get you up to speed on what makes these tools so great for professional builders.
Fusion technology is ideal for anyone looking for the power of pneumatics with the convenience of cordless. Looking out for cords on the job site is a daunting thing of the past; and looking to the future, efficiency, and precision will always be a must. Each of these matters is considered with SENCO's fusion-powered finishing tools.
What makes fusion technology different from other cordless nailers,
is that fusion eliminates the need for fuel cells, as well as fumes and cleaning costs associated with cordless gas nailers. SENCO's fusion-powered pneumatics eliminate delays in ramp up time that are often associated with battery-powered nailers. Builders can use these tools for a variety of finish and trim applications, including crown moldings, window and door jams, chair rails, and baseboards. Not to mention the ease at which their new framing nailers will help you complete any framing, decking, or sub-floor projects on the job.
SENCO's Cordless Pneumatics Receive Upgrades
The upgrades and benefits you'll find with SENCO's new line of cordless pneumatics are precisely what fellow professionals have asked for in order to make the building process easier. This upgraded line of pneumatic tools consists of finish, framing, and brad nailers, as well as one finish stapler.
SENCO will offer the following 6 variations of the new cordless pneumatic fusion-powered tools:
All of these cordless pneumatic tools are engineered with durable, lightweight designs which drive fasteners into the hardest of substrates; and they do so without the hassle or expense of fuel cells. Each new model includes jam reduction intelligence so that users experience fewer nail jams. Various models include special features, such as the EZ-Clear Magazine featured on the F-15XP, which allows for easy removal of the magazine to clear nail jams.
These are slightly more expensive than their predecessor due to the added innovation and Senco's attention to detail that contractors have been begging for. Fusion finish and trim nailers start in the low $400 while the framing nailers are priced in the mid $500 range depending on the tool. (As of Summer of 2022)
Equipped with higher hand power, the F-35XP and F-35FRHXP Framing Nailers contain a brushless motor that provides efficient and consistent performance on every job site. In order for contractors to securely hang tools at the end of the day, a rugged rafter hook is present on these models as well. Other notable features include a refillable airport for service repair simplification and an aggressive toenail safety for extra gripping on toenail applications.
Builders will find that SENCO's new cordless pneumatic tools are quicker and more efficient than previous models. Upgraded to make the nailing process better for you, these cordless nailers have a true pneumatic feel, speed, and power.
Fusion-Powered Pneumatic Tool Benefits
Pneumatic power is hard to compete with when it comes to nailers. Due to the fusion design, these new models are powerful enough to drive through the densest substrates with no ramp-up time. These upgraded tools truly provide you with the power and speed you're used to in a traditional pneumatic tool.
The adjustable depth of drive thumbwheel on these tools is extremely convenient on job sites – a feature that contractors are sure to love. All you have to do is set the depth to get consistent drives every time.
The F-15XP, F-16XP, F-18XP, and F-LXP models all come with an 18V Lithium-ion battery and fire between 550-650 shots per full charge. These models also feature an LED charge indicator light. The F-35XP and F-35FRHXP models both come with two 3.0Ah 18V Li-ion batteries and fire 600 fasteners per shot. Each tool comes with a charger capable of charging the battery up to 80% within just 30 minutes. The framing nailers also feature a super handy selectable trigger. With the push of a button, you can easily put the tool into sequential mode, or bump mode.
The innovation and benefits of this tool line make these models ideal for professional framers and contractors. These products have a 5-year warranty and come packaged with a storage bag, a battery (the F-35XP and the F-35FRHXP framing nailers come with two 3Ah batteries), a charger, and a no-mar pad.
Final Thoughts
SENCO's cordless pneumatic finish tools combine the speed, feel, and power of traditional pneumatic tools with the convenience of cordless, making them a no-brainer on the job site. FUSION™ technology is unmatched and ideal for anyone looking for power, efficiency, and convenience in a nailer.
---
Shop This Article